Real Estate in Northern Virginia
A home is worth what a buyer is willing to pay.
Regardless of the time, effort, or money you have used to purchase, maintain, and update your home, or even what an appraiser suggests as its worth, it will only sell for what a buyer is willing to pay. Buyers might want to do different updates, because they have different priorities. There may be more things that need to be done, too. In Northern VA as elsewhere, buyers are more likely to pay less for your home if they know more money will need to go into their own updates. Avoid this problem. Before doing any expensive remodeling consult with an experienced Northern Virginia real estate agent to find out which remodeling expenses are the most rewarding – and which should be avoided completely.
Upgrades may not increase the value, but they'll increase the chances of getting it sold.
When selling a home, of course you want to at least come out financially even on any home updates you have done. But realistically your home value increase will only offset a portion, if any, of your costs. Different updates return differently, and different regional real estate markets are a factor also, so homes in the Northern Virginia area may or may not give the percentage of payback you had wished. Other things that can affect your return are the quality of the work done and the buyer's unique desires. Be satisfied to know that the right home updates do, however, make your Northern VA home more likely to sell.
Cleanliness is godliness.
Of course your house can't be perfect, and some things such as pet ownership and the weather can make it even more challenging, but to appeal to Homebuyers in Northern Virginia, do try to get and keep your home as clean as possible for listing photo shoots and for viewings. That way, Buyers leave remembering all the wonderful features they love in the home rather than what a disaster it was. A messy or dirty home will languish on the market in Northern Virginia for additional months just for want of a thorough cleaning.
Curb appeal is the first and strongest impression.
You know that you never get a second chance to make that first impression and that it is so hard to get someone to change a negative first impression, so get it right the first time! Imagine yourself as a newcomer viewing the front of your home in Alexandria Virginia. Does it entice you to want to buy it? Since it IS actually YOUR house, perhaps this is too hard for you to judge. Look at the homes to the left and right. Are they impressive enough to draw you in? If you wouldn't buy any of these homes, what would be different if they were just tidied up a bit – the children's toys put away, the trash bins out of sight, the hedges trimmed and the lawn mowed? What if all the shutters were attached, the exterior were freshly painted, and the sidewalk and driveway were pressure-washed? Now would you want to buy?
Pet odor and clutter leave the longest lasting impressions.
You love your pets, but some potential home buyers do not care for pets at all, or they may even be afraid of them. It can be very difficult not to leave any indication that pets currently live your home, but do try your hardest to have the home showcase itself, not your deep affection for animals. If you can, even hide their bedding and food bowls. Pet odor is very hard to hide, so It might be worth your while to replace your flooring. When preparing to sell take these steps to insure your home smells pleasant: Many negative odors can be eliminated with a thorough top to bottom house cleaning including, carpet cleaning and laundering everything that can be – linens, bedding, curtains etc. Things that are clean smell clean.
Your home should have a pleasant and familiar scent but NOT an overpowering one. (Less is more.) The following are scents that are most widely appreciated. Don't combine multiple scents in the house. Stick with just one of these. The citrus scents tend to work best.
Orange
Lemon
Pine
Basil
Cedar
Vanilla
As far as clutter is concerned, clearing clutter from your home accomplishes two things; it makes areas of the house easier to clean and it neutralizes the space so prospective buyers can picture their own items there. While it might be a challenge to get rid of or simply store your excess furniture, knickknacks and items stored in overflowing closets, garages, basements etc., doing so will reap huge benefits for you both in money as well as the speed with which your house sells. Remember this axiom — Space Sells!
Neutral paint and decor will always appeal to the masses.
When you are ready to sell your Northern Virginia home, you will definitely want to get rid of both dark and bright colors. Unusual color schemes will be eye-catching eyesores in your marketing photos before potential buyers even consider viewing your home and if they don't like the photos they find they will Never come to see your home in person. Neutral is always the way to go. Currently light shades of gray and tan top the list of desired wall colors. As for decor, minimal is best. Go ahead and pack up much of your own decor before you try to sell. Lots of knickknacks and personal items can be distracting to buyers and make it more difficult for them to picture themselves and their personal items in the home, so store these items away – preferably outside the home. Fortunately there are many options for temporary storage in the Northern VA region. You want your home's storage areas to appear larger than they are, and if they are filled this will give the opposite impression.
Cheap fixes or updates will result in cheap (low) offers.
If you can't afford to update the whole house,don't. Trying to take care of EVERYTHING will result in cheap updates that the potential buyer will most likely want to have redone,anyway. This would cost him more money in repairs, thus causing him not to want to pay top dollar for your home and instead may result in a low offer or even worse none at all. It is a vicious circle. If you can do nothing else, as stated above, at least paint. Money spent on fresh coat of paint in the whole house – as long it's a neutral color – is never wasted money.
Everything is negotiable.
I am serious. Everything IS negotiable.The refrigerator can often be the biggest item up for negotiation – buyers want it and/or sellers note that it can come with an acceptable offer, but many other items have been negotiated, too : blinds, curtain rods, curtains, furniture, even tractors. However, it is very important to make sure negotiations are done right and documented correctly in the contract.
Time is of the essence.
In a Seller's Market – when anything less than a 6-month supply of homes for sale results in the demand for houses outpacing the supply – prices go up at rates above inflation. National statistics tend to vary locally in Northern Virginia, but during a Seller's market is the perfect time for Sellers to list homes. They can be on the market for a very short time before a contract is put on them since demand is so high. Since contracts are made so quickly, time is of the essence for Buyers as well. If they are quite interesteed in a particular house, an offer – a good one – needs to be put in right away because that home might not still be on the market tomorrow.
Location! Location! Location!
Why is location so important? First, you can't move a home — at least not easily or inexpensively. When you buy a home in a good location, it's usually a solid long-term investment. It's often wise to buy the worst house — a property that could use some TLC — on the best block. Why? Because fixing up a home in a great neighborhood in Northern Virginia will give you the best return on your investment. It will be easier to sell later on. Conversely, if you buy a beautiful home that doesn't need any work on a block that is rather sketchy or just plain bad, you will probably have a hard time selling the property at a decent price in the future.
Buyers notice things they want to change before noticing any updates.
Not everyone is interested in the same things Different aspects of a home are important to different Buyers. It doesn't matter if the Seller just spent tens of thousands of dollars on an upgraded kitchen and a remodeled master bathroom. A Buyer may be focusing on having to have the carpets ripped up and hardwoods laid. Or, the Buyer's taste may not at all match with the renovations the Seller just had done. One tactic Sellers use to entice Buyers is to allow a flooring allowance or paint allowance.This way Sellers don't waste money while getting the home ready to sell and Buyers can pick out the details they like.
When priced right, it will sell.
Even if you're in a hurry to sell and price isn't your MAIN concern, you still need a baseline from which to start marketing your home. It is undeniable that pricing is one of the biggest decisions in the selling process. If you set your price too high, you run the risk of turning off potential buyers. Also, your house will not compare favorably with other similarly priced homes in the DC Metropolitan Area. Even worse, buyers may not even see your listing when they search online because their search criteria will be set to lower price points.
Get our free e-Home Sellers Guide to start you on a successful journey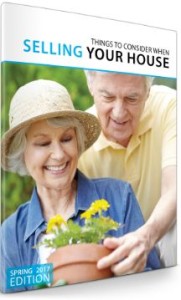 © 2017 Dave Martin – Dave Martin Realty Group – all rights reserved