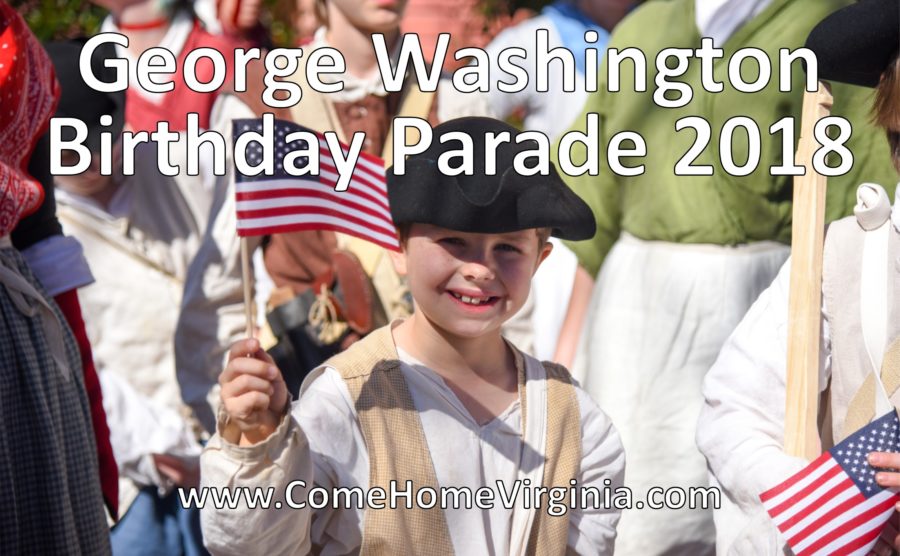 FREE FAMILY FUN EVENT IN ALEXANDRIA, VA.
Alexandria has a rich history of celebrating the birth of our first President. Ever since the Revolutionary War his birthday has been celebrated with dances, performances, and parades, and in 1976 – our country's Bicentennial – the George Washington Birthday Celebration Committee was begun to organize these celebrations.
One of the most festive celebrations and the oldest and largest — with thousands of participants — is the George Washington Birthday Parade, an annual parade held on the third Monday in February, this year held on Presidents' Day, Monday February 19, 2018. George Washington's actual ( 286th) birthday is February 22. He was born in 1732.
The parade is a mile long and takes place in Old Town. Here's a link to the Parade route,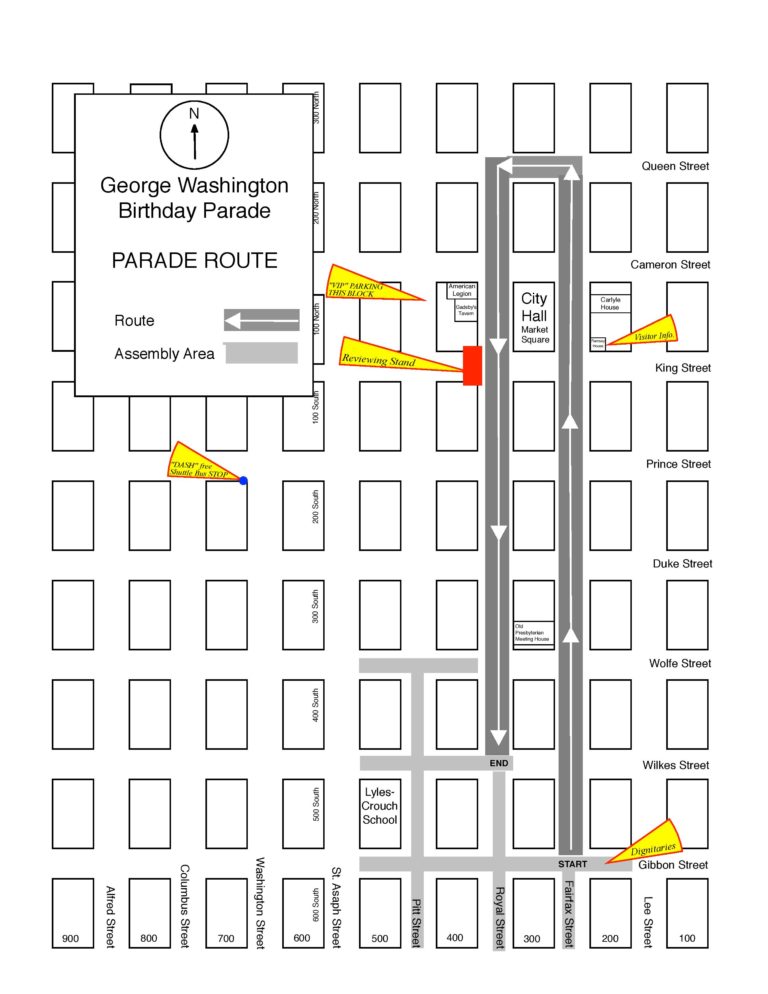 which starts at the corner of Gibbon and Fairfax streets, heads all the way up to Queen Street and loops around left to head back down Royal Street, where it concludes at Wilkes Street.
First, second, and third place Parade Awards are given in the following categories: Youth Groups, Antique Vehicles, Community and Fraternal Organizations, Military Units and Drill Teams, Animal Units, Youth Bands, Honor Guards and Color Guards, Equestrian Units, Historical Units, Floats, and The Spirit of Washington.
George Washington Birthday Parade — PARTICIPATING GROUPS
Adventure Park USA
Alexandria American Legion Post 24
Alexandria Democratic Committee
Alexandria Division of the Ancient Order of Hibernians
Alexandria Jaycees Foundation
Alexandria Little League
Alexandria Volunteer Fire Department Inc.
American Heritage Girls
American Legion Riders, Post 176 (Springfield, VA)
American Red Cross
Amy Jackson for City Council
Ballyshaners, Inc.
Boy Scout Pack 135
Brownie Troop 4562
Burke Composite Squadron Civil Air Patrol Color Guard
Caribbean Cruisers Car Club
Christ Church
Coldwell Banker Residential Brokerage – Alexandria Office
Cub Scout Pack 129
Cub Scout Pack 135
Cub Scout Pack 1519
Cub Scout Pack 301
Cub Scout Pack 614
Cub Scout Pack 801
Cub Scout Pack 867
Daisy Troop 60028
Daisy Troop 60085
DASH Hybred Trolley
Daughters of the American Revolution, John Alexander Chapter
Daughters of the American Revolution, Kate Waller Barrett Chapter
Departmental Progressive Club, Inc.
Disabled American Veterans local chapters
Ebony Doughboys
Falun Dafa of Washington DC
Freedom High School "Soul Squad" Marching Eagle Band
Friends of Alexandria Archaeology
G.O.D.S.S Marines
Gadsby's Tavern Museum Society
Girl Scout Brownie Troop 60015
Girl Scout Brownies Troop 5442
Girl Scout Daisy Troop 434
Girl Scout Troop 395
Girl Scout Troop 5214
Girl Scout Troop 53030
Girl Scout Troop 60068
Girl Scout Troop 933
GO Alex
Ivy Hill Cemetery Historical Preservation Society
James Madison-Fourth President of the United States
John Taylor Chapman for Alexandria City Council
KENA Shriners
Kiwanis Club of Alexandria, TC Williams H.S.Key Club, & Robert E. Lee H.S. Key Club
Knights of Columbus, Potomac Assembly #2204
Ladies Oriental Shrine of North America
Magnus Temple #3 Marching Patrol
Mrs DC America representatives
Mrs. Anacostia 2018 – Keisha Ruiz
Northern Virginia Flag Football League
Old Dominion Boat Club
Old Line Liberty Color Guard
Port Chester High School Marching Band
Quarter Mile Cruisers
Rocklands
Rooftop Chimney Sweeps
Royal International Ms. Virginia, Royal International Miss Virginia Princess, Royal International Ms. DC, Royal International Miss DC Pre Teen and Royal International Miss Teen
Sons of the American Revolution
The Italian Place
The Little Theatre of Alexandria
Tinkus Kay'sur
Two men And A Truck
U. S. Shetland Pony Racing
United Horsemen's Association
Volunteer Alexandria
Zelsman Powers Group Realtors
George Washington Parade Transportation & Parking
There's free DASH Shuttle Bus service from 11:00 AM to 4:00 PM. Park in the lots beside the Eisenhower Avenue Metro Station. The free King Street Trolley will also run from the King Street Metro Station.
George Washington Birthday Other Events
Many other events are centered around Washington's Birthday, including, but not limited to:
The Tenth Annual Cherry Challenge which ran from January 28 – February 11, 2018. Several area restaurants prepared cherry dishes which were rated by diners. Winners will be recognized at the George Washington Birthday Parade.
Walking with Washington Tours – remaining Walks to be held on Sunday February 11th, 18th, and 25th from 2:00 – 3:30 PM beginning at the Alexandria Visitor Center (Ramsay House 221 King Street)
Eighteenth Century Dance Classes at the Gadsby's Tavern Museum from 7:30 – 9:30 PM on Thursday February 15th. In preparation for the…
George Washington Birthday Banquet and Ball Saturday February the 17th from 5:30 – 11:00 PM at Gatsby's Tavern Museum and Band Concert on Monday February 19th from 11:00 AM – 12:00 PM at Market Square.
You can check on the status of these events, including the Parade, in case of questionable weather or other circumstances HERE
or by calling the Events Hotline at (703) 829 – 6640
---
Northern Virginia Real Estate Solutions For You
We are committed to keep you informed and on top of the local Northern Virginia real estate market. You can be certain that we will provide all the information you need to make the best choices for you and your family. We have been helping individuals, couples and families to purchase and sell homes in Alexandria and the surrounding areas of Northern Virginia for the last four decades and we would love the opportunity to help you too. Whether you are buying your first dream home or next we will take the time to answer all your questions and always give you the best advice available so that you can make your dream home a reality.
Email or Call us today for a free no obligation, no pressure consultation.
(703) 585-4687
Follow Us On Social Media
© 2018 Dave Martin Realty Group