Happy Saint Patrick's Day!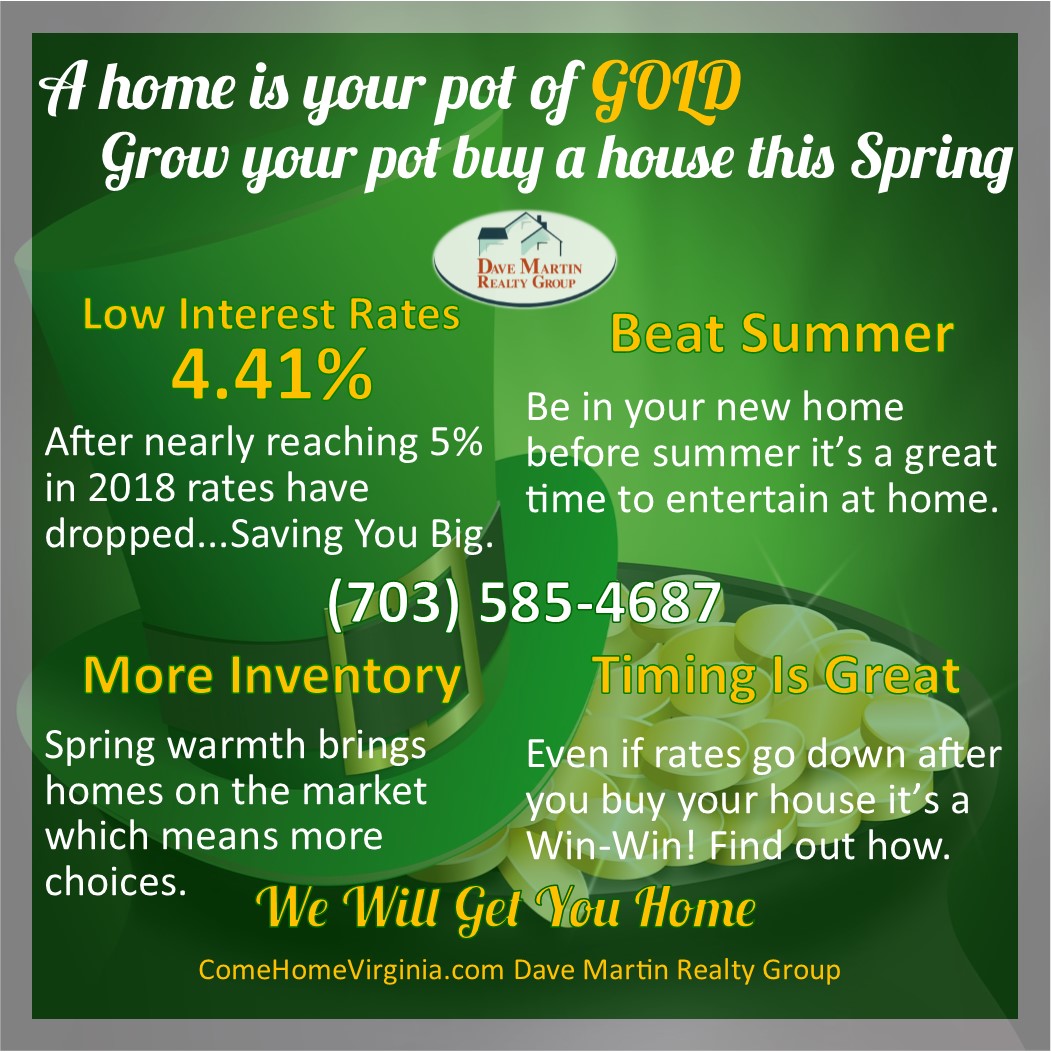 What are current Mortgage Rates in Northern Virginia?
After reaching a high of nearly 5% in 2018 mortgage rates have retreated to a current average rate of 4.41% for a 30 year fixed rate. This means you have a chance to save some pretty big money on your monthly mortgage by buying a home now rather than waiting for rates to continue to climb again. Rates are forecast to be in a general upward trend for the next year.
Read about the mortgage rate forecast for 2019 HERE
Are there more homes for sale now?
Spring brings out both home sellers and home buyers in Northern Virginia; as the weather warms here, typically so do residential home sales. More sellers means more homes for you to choose from which is great news. But there is a catch — it also means that there will be more home buyers coming out of hibernation, which means you could have more competition the longer you wait.
How much will the lower rates save me in mortgage payments?
Most people aren't really aware of how much difference even small moves in interest rates will affect their monthly house payment, but the truth is that it is substantial. Just a 1/2% change to the mortgage rate will raise or lower your monthly Principal & Interest payment (P&I) by approximately 11%. In the example mortgage shown in the chart, that 1/2% change will change your monthly P&I by more than $120.00. That is nearly $1500.00 a year.
What if interest rates fall after I buy a home?
That would be AWESOME! Let's say you buy a house now with today's interest rates and home prices, and 6 months or a year from now the interest rates actually don't rise as forecast. Instead of being higher, the rate drops even lower. If that were to happen you should be able to refinance your loan. There are many refi options that have few or no closing costs and others that allow you to include or roll these costs into your new mortgage with its lower interest rate and monthly payment. You can consider this a true Win-Win. But if rates do rise as forecast, the same home you could be living in today could cost you 12% or more per month by waiting a year.
DOLLAR-FOR-DOLLAR HOME BUYER
SAVINGS GUARANTEE
Do I need a big down payment to buy a house?
No, many would-be home owners never even try to buy a house because they believe they need 10%, 20% or even more money for a down payment. This is one of the most common misconceptions of renters — that they don't have enough money saved to be able to buy a home. The truth is there are many mortgage options in the Northern Virginia metro area that allow both first time and repeat home buyers to purchase a home with little or no down payment at all.
What credit score do I need to buy a house?
A lot of people are confused by this as well; they think they need perfect or near perfect credit scores in order to qualify for a mortgage and buy a home of their own. I have had home buyers believe that they need a 700, 800 or even higher FICO credit score in order to buy a home; this is also misinformation. The truth is that that nearly one third of all approved mortgages are given to people with FICO scores below 700. I personally have helped many home buyers locate mortgages that allowed them to purchase homes with credit scores below 600. While it does pay to have a higher credit score, not having one shouldn't make you believe that you can't buy a home of your own. I wrote an article that you can use — with great tips to get your credit score up to buy a house. There's even one tip that can only be used when you are buying a home.
Read Insider Tips To Get Your Credit Score Up Fast To Buy A House
Do you need to sell your house to buy a new home?
---
"Don't Let Your Luck Run Out This Saint Patrick's Day"
is brought to you courtesy of Dave Martin Realty Group, your Northern Virginia residential real estate experts. If you're considering selling or buying a house in the Northern Virginia metro area, we'd love an opportunity to earn your business, provide you an outstanding experience, and demonstrate to you that:
"Help From The Best Agent Makes All The Difference."
SEARCH HOMES IN ALEXANDRIA, VA
SEARCH HOMES IN ARLINGTON, VA
SEARCH HOMES IN FAIRFAX, VA
SEARCH HOMES IN PRINCE WILLIAM, VA
PLEASE CONSIDER FOLLOWING US ON SOCIAL MEDIA
#realestateexposed #realestatesecretsexposed #realestategimmicks #WeWillGetYouSold #WeWillGetYouHome