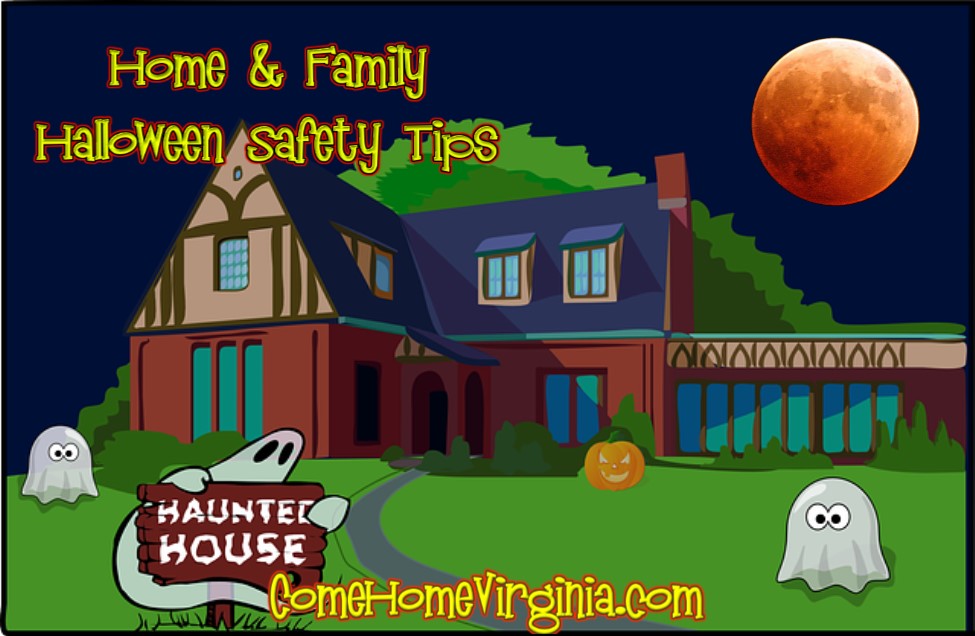 **
From the candy, to costumes, decorations, and more, Halloween is a fun-filled highlight of early autumn for kids and parents alike. To help make it memorable and happy, follow these simple safety tips for your Children, Home, and Pets.
UPDATE RULES LOCATIONS AND TIMES FOR TRICK OR TREATING IN NORTHERN VIRGINIA
Prince William County
Typical trick-or-treat hours are between 5:30 p.m. – 9:30 p.m.
Fairfax, Virginia
There are no set hours, but trick-or-treating is available at these city buildings from 9 a.m. to 5 p.m.:
Trick or treating available at city buildings from 9 a.m. to 5 p.m.
City Hall
Fairfax Museum and Visitor Center
Stacy C. Sherwood Community Center
Green Acres Center
Arlington, Virginia
There are no recommended hours, but children are invited to trick or treat at participating local businesses from 3 p.m. to 5 p.m.
Alexandria, Virginia
There are no recommended hours, but a list of Halloween events can be found here.
Be Seen
Costumes that are light or bright colored are much easier to see.
A Newsweek Article discusses the importance of color selection for pedestrians being seen both during daylight hours and dusk to dark HERE
Adding reflective tape to your children's costumes will also improve visibility; you can add it to your child's costume, props, and trick or treat bag.
Check Candy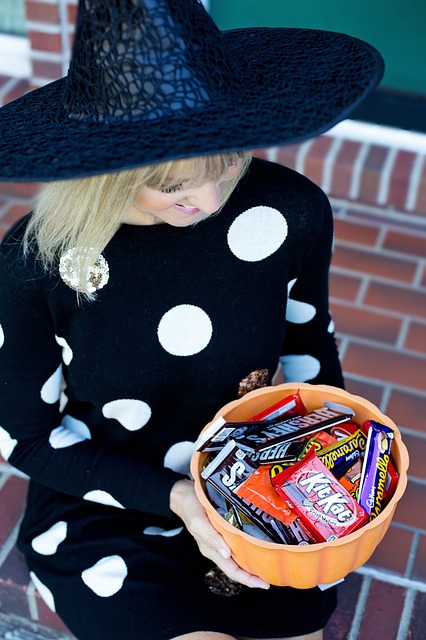 Parents should check the candy for choking hazards, (gum and hard candy for example) particularly for younger children. It's not only a good way to protect your children but gives parents an opportunity to share in the goodies. ;-)
Use Sidewalks
Remind the trick-or-treaters to stay on sidewalks and walking paths and to avoid the street except at designated crosswalks. Make sure children know to walk on one side of the street to the end, and not to zig-zag back and forth across the street.
Sadly, Halloween is the deadliest day of the year for automobile fatalities for pedestrian children, at more than twice the average. Over 70% of these accidents occur in the middle of the block — away from crosswalks or intersections.
Costume Safety — Fireproof / Resistant
Make sure children's costumes are made of fire-resistance material, and avoid costumes that are overly large or with long dragging parts. These can be stepped on and cause tripping, and are more easily exposed to open fires.
Make sure accessories such as swords, canes, brooms, or sticks are not sharp or too long.
Face Paint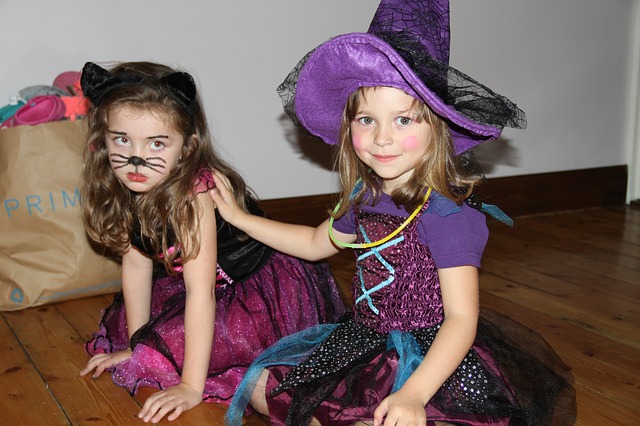 Nontoxic Face Paint is a safer choice than costume masks; your child's field of view will be much greater than it will with a mask. If you choose the face paint option, make sure you select nontoxic paints, and test a small area of your child's skin a few days before Halloween to make sure your child is not sensitive to the paint selected. After trick or treating, make certain to thoroughly but gently wash off all paint and other makeup.
Also important for trick or treaters and their parents is to make sure you are paying attention keep your head up and watch where you are going. Don't have your head or eyes focused on your smart phone while walking, stay alert and safe.

Flashlights / Glow Sticks / Flashing LED Buttons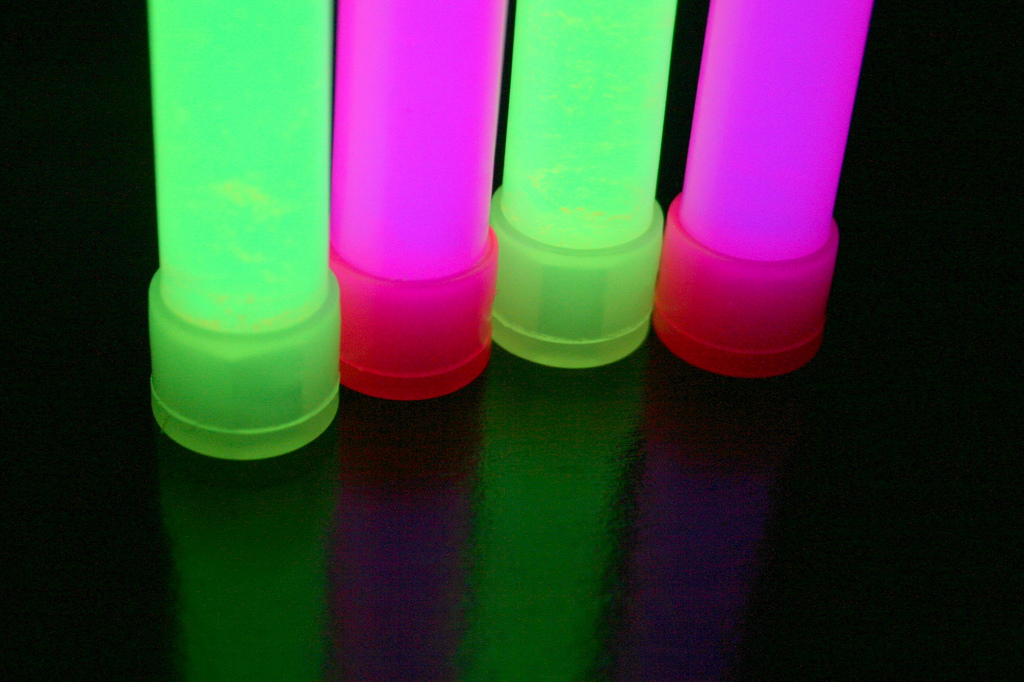 Equip your children with one, two, or all three of these safe lighting options. Flashing LED buttons can be attached to various parts of the costume. Flashlights can be carried, and help your child to see dark spots as well as to be seen more easily. Finally, Glow Sticks can be carried or attached to various parts of your child's costume. As an added bonus, kids love these lighted safety props and will get hours of enjoyment from them after trick or treating.
Adult Supervision
Make sure younger children are appropriately accompanied and supervised by an adult.
Stay Together
For older children that trick or treat without their parents, be certain that they trick or treat in groups of 4 or more and that they know that they should not enter cars, houses, etc. to retrieve candy.
---
Real Estate News & Updates Posts
Get Your Credit Score Up Fast — To Buy A House
Home Buying — Preparation for Success
Home Buyers - Costly Mistakes To Avoid In A Seller's Market
Move Up To A Luxury Home? — Now Is A Great Time!
Sellers These Are The Features Home Buyers Want Most
---
Plan the Route
For the children that will be trick or treating without adults, pre-plan their route with them and make sure that they understand the importance of sticking to the route in the order it is laid out. If your child has a mobile phone, make sure that they take it with them, or perhaps lend them mom or dad's phone for the evening.
Jack-o-Lantern Safety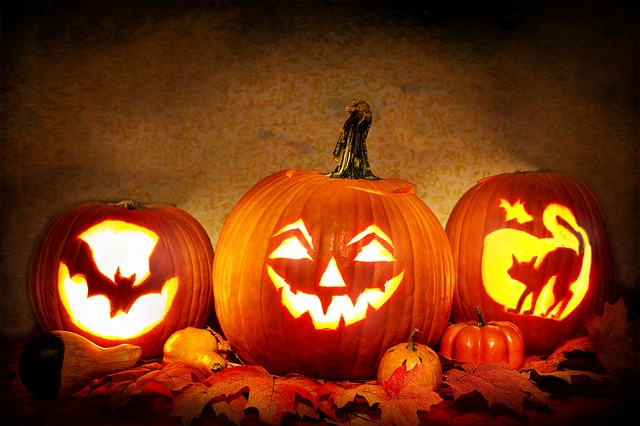 Carving a pumpkin should be done by adults and older children only — and even then with caution. Cuts from making jack-o-lanterns are one of the most common injuries received during the Halloween season. Younger children can still participate in a variety of ways, however
Younger children can draw the face of the jack-o-lantern with colored markers. The face can be just drawn on or used as a pattern for an adult to cut out.
The newer pumpkin carving kits often come with stencils, or you can find many stencil options online to print out. These can be taped to the pumpkin, and with the small poking tool, (included with most kits) the traced image can be transposed. This can also be a way for a child that is a bit too young to do the carving to be an active participant, (under appropriate supervision) and it can also help the child to develop new skills and confidence.
Lighting Safety
Burns and fires can be avoided by using battery-powered candles or colorful glow sticks for illuminating the Jack-o-Lantern. The pumpkin will also not dry out as fast as it does with a candle.
If you will be lighting your walkway with paper lantern candle bags, luminaries, you should opt for LED powered candles here as well. Not only are they much safer for you and the trick-or-treaters, but they won't blow out like a flame candle.
Keep Exits Clear
Don't congest exits with excessive decorations that could impede evacuation in the case of fire or another emergency.
Practice indoor fire safety
Hosting a Halloween party for adults? Check your smoke alarms to help make sure they're in good working order. Also, keep decorations like crepe paper away from li jack-o-lanterns and open flames.
Secure Railings
Young children, and the adults who often accompany them, will need the security and support of railings while climbing the steps to get to your front door. If you've been putting off fixing that rickety railing, it's time to get out the toolbox and make it secure.


Clear walkways
Trick-or-treaters are too busy counting candy to pay close attention to where they're walking, also its likely their costume masks are obscuring their vision (good reason to consider face paint instead), so it's critical to survey your yard for potential trip and slip hazards. Be sure your yard is free of tripping hazards like hoses and sprinklers; clear walkways of loose gravel; and be sure to clean moss off steps. And if your home has an irrigation system, turn the system off well in advance of the big night so your lawn and walkways have a chance to dry.
Other Decoration Safety
Dried flowers, hay bales, cornstalks and crepe paper catch fire easily. Keep all decorations away from open flames and other heat sources like light bulbs and heaters.
Contain Your Pets
Barking dogs not only scare trick-or-treaters of every age away, they also present a danger. A dog that breaks away from your home might not bite, but he could knock down a toddler or scare a teen right into the street, causing even more danger. Keep all pets securely confined inside your home until the hustle and bustle of the night has passed. The constant excitement of young children ringing the doorbell is simply too much for many pets, the ASPCA warns, and scared dogs or cats can dart out the front door. Avoid a Halloween pet mishap by keeping Fluffy and Fido in a separate room, away from the excitement. Consider having the radio or TV on in the room with your pets to keep them company and also to filter out the doorbell, door knocks and other noises of Halloween to help keep your pets calm.
Pet Costumes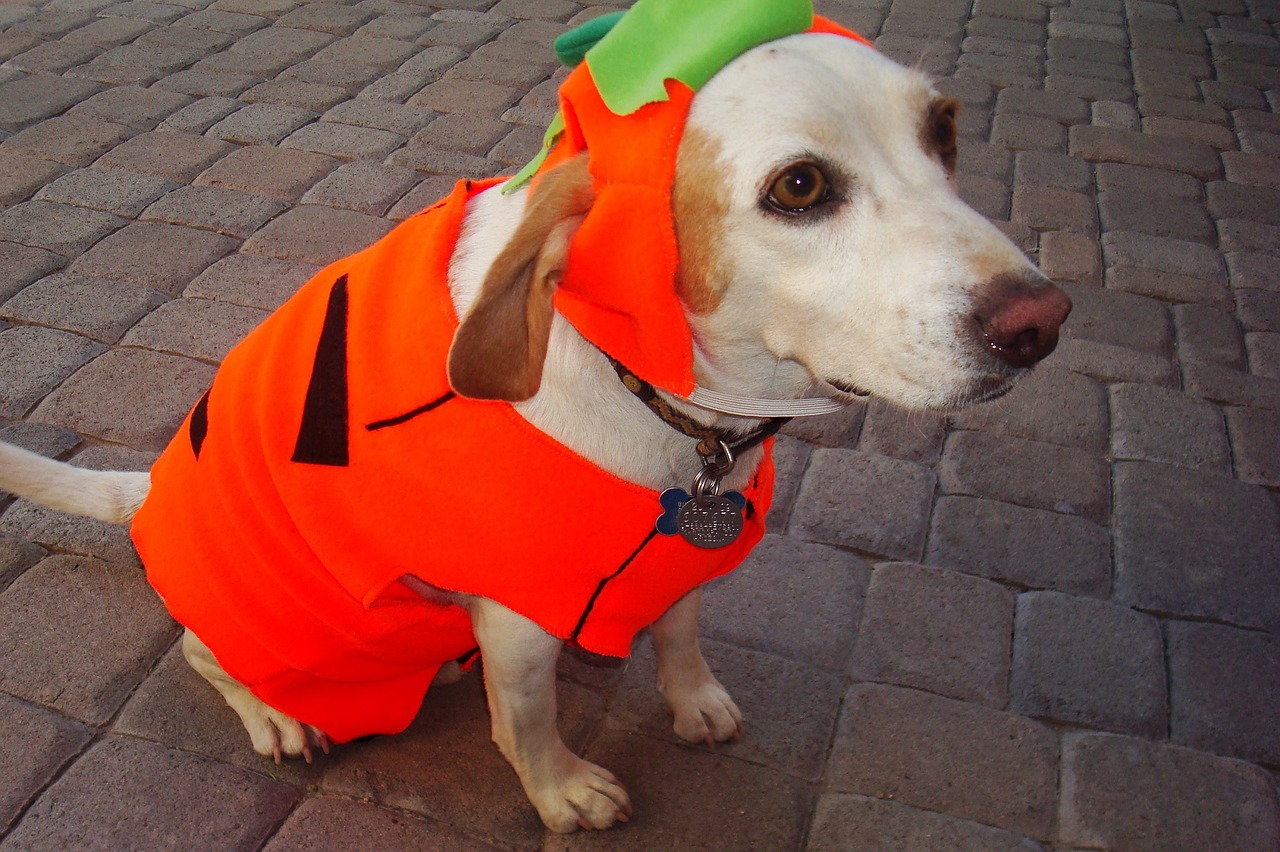 Does your dog or cat like dressing up? Some dogs and even cats LOVE wearing sweaters and playing dress up, while many HATE it! If they hate wearing outfits, then don't force them. Being forced to wear unwanted clothing will only cause stress and anxiety. You should NEVER make your dog or cat wear something that they don't like unless it's for health or safety purposes (such as a cone or collar). Watch their body language and look for any signs of stress. Dressing up can really stress out some pets. Playing dress up isn't worth upsetting your pet.
Senior Pets, Puppies & Kittens
Arthritis — If your senior pet has arthritis, trying to get them into a costume can be painful. Puppies and Kittens often lack the coordination skills to move properly in a costume. So is best to avoid putting a young pet in costume.
"Halloween Safety For Your Family"
is brought to you courtesy of Dave Martin Realty Group, your Northern Virginia residential real estate experts. If you're considering selling or buying a house in the Northern Virginia metro area, we'd love an opportunity to earn your business, provide you an outstanding experience, and demonstrate to you that:
"Help From The Best Agent Makes All The Difference."
SEARCH HOMES IN ALEXANDRIA, VA
SEARCH HOMES IN ARLINGTON, VA
SEARCH HOMES IN FAIRFAX, VA
SEARCH HOMES IN PRINCE WILLIAM, VA
PLEASE CONSIDER FOLLOWING US ON SOCIAL MEDIA