By the end of this article you will know how to get your credit score up fast to buy a house, as well as being enlightened on some common misunderstandings about Credit Scores and Mortgages. One of the first things people worry about when they start thinking about buying a home is, What's My Credit Score? And there is a lot of confusion and misinformation out there about how high your credit score needs to be, as well as what you can do to improve your credit score.
Some Of the most common misconceptions regarding Credit Scores and Mortgages Include:
You need a Credit Score over 700 to buy a home. FALSE

Most Home Buyers have Excellent Credit Scores. FALSE

Credit Scores are the MOST important factor in getting a mortgage. FALSE

You need 10% - 20% down payment to buy a house. FALSE

You should contact a LENDER 1st when you decide it's time to buy. FALSE
WHAT FACTORS INFLUENCE YOUR CREDIT SCORE MOST?
Your credit score is determined by taking each of the following five sections of your credit report and weighting them according to a set standard.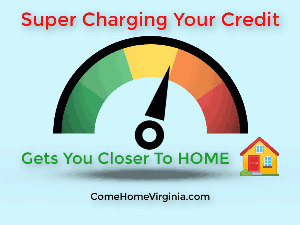 Payment history: 35%

Outstanding debts: 30%

Length of your credit history: 15%

Types of credit you've used: 10%

Amount of new credit: 10%
HOW TO REV UP YOUR CREDIT SCORE TO BUY A HOME
Pay All Your Bills On Time




This is a simple way to boost or protect your credit score. If you're going to be looking to get a mortgage loan in the future, all bills should be paid on time, or ideally early, if at all possible. There are also additional steps you can take that can increase your credit score dramatically and sometimes in a very short period of time. If you need help with this please feel free to call or email me directly.

Keep or Get Your Credit Utilization Percentage as Low as Possible


How much money you owe represents 30% of your Credit Score, and many recommend that you keep your credit utilization under 30% of your available credit line. Let's say you have 3 Credit Cards, each with a credit line of $5000.00; that would be a total credit line of $15,000.00 combined.




| | | | |
| --- | --- | --- | --- |
| Credit Cards | Credit Line | Balance | % of Credit Utilized |
| (A) | $5000.00 | $1000.00 | 20% |
| (B) | $5000.00 | $500.00 | 10% |
| (C) | $5000.00 | $500.00 | 10% |
| Total | $15,000.00 | $2000.00 | $2k / $15k = 13.34% |


In the above example this person is using approximately 13.34% of their available credit line. This is well within the recommended and somewhat arbitrary 30% guideline. It is worth noting, however, that Experian data shows that consumers with the best credit scores on average utilize only 8%

of their available credit. Also, the FICO scoring model seems to agree with this conclusion. "Consumers with FICO scores of

800+ use, on average, just 7% of their available credit.
Authorized User On Credit Cards
This tactic can effectively and quickly boost your credit scores and is sometimes referred to as "piggybacking". Whether your credit is low because you have little or no credit history or because you have damaged your credit with late payments and past due accounts, etc., being made an authorized user on someone else's Credit Card can boost your credit score quickly and significantly.



How does it work? Someone you know, usually a close relative — Mother, Father, Brother, Sister — that has very good to excellent credit scores, puts you on one or more of their accounts as an "Authorized User." By doing this, your credit will benefit from the "good actions" of this account.



IMPORTANT POINTS ABOUT AUTHORIZED USERS

You won't actually need to use the card(s) to benefit from being on the account. The person authorizing you on their card(s) doesn't have to give you a card. You should let them know this, so they can feel comfortable about adding you as an authorized user.

The account(s) they add you to should be the oldest (most seasoned) credit cards they have.

They should have an exemplary payment history; this must continue once you have been added, or the negative actions would also impact your credit, which would be negative.

The greater the difference between your score and theirs, the better — ideally at least 100 points or more — and their FICO credit score should, at a minimum, be in the 700's. Again, the higher the better.




Secured Credit Cards




What if you don't qualify to obtain your own unsecured credit card? Consider taking advantage of Secured Cards. These operate in much the same way as an unsecured card; the exceptions are that the "credit limit" is secured by an amount of money you have deposited with the card issuer. The limits of secured cards are also typically lower than those of unsecured.





TIPS ON SECURED CREDIT CARDS

Check with the card issuer and find out if they report their secured cards as unsecured. If they report as unsecured, this is a better option for you, as unsecured cards will have a greater influence on your credit score.

Avoid secured cards with annual fees; there is no reason to pay annual fees for cards. It won't help your credit score, and there are plenty of secured cards without fees from which to choose.

Find a secured card that will allow the highest deposit / secured amount you can afford.

Make sure to use the secured card keeping the credit utilization percentage in mind.

Pay the card a bit early — by a week or more — NEVER LATE! Credit Cards only report to credit reporting agencies once a month. If you wait until the due date, its possible that the amount they report will be not only that month's statement balance but your new charges for the next statement period as well — which will make it appear as though you are using a higher percentage of your credit line.

Don't confuse a secured card with a prepaid credit card. A prepaid credit card is like a Gift Card and has absolutely NO impact on your credit score whatsoever.

Rapid Credit Re-Scoring

If there is negative inaccurate information on your credit report, or some older data is on there, like last month's high credit card balances, a process called "rapid re-scoring." could help you. It's only available to people in the market for a mortgage.

How does it work?: First you begin the mortgage pre-approval process from the lender of your choice. Now, if there are mistakes, outdated or false information appearing on your credit report, you have the right and ability to get that cleared up – VERY QUICKLY.

Here's what happens: your mortgage lender reaches out to the credit bureaus on your behalf and provides them information indicating that your credit reports should be updated without delay. The purpose is to get untrue, negative information removed or to get fresh, up-to-date, accurate information added to your credit reports.

Your lender asks the credit bureaus to immediately refresh and update your credit reports so they display the most recent data available on your account. Then a newly updated credit report will result in a new (frequently higher) credit score.

Rapid re-scoring is just that, and often works in 48 hours or less, because credit bureaus fast-track requests of this type. It's important to understand that only a lender can start this process; individuals can't do it themselves. But you do have the right to ask for rapid re-scoring when appropriate in order for you to get approved for a home loan or to get the best loan rates and terms available.

Research and Consider Various Loan Options


Learn some real estate jargon before your bank account relies on it. Get familiar. There are lots and lots of different types of mortgages available and lots of different terminology for them. Not all mortgages will suit all borrowers ideally, so finding the right mortgage for you is important.

Let your Buyer Agent be your guide to your lender
Why the real estate agent before the lender? Well, not all lenders have access to all loans. By finding your agent first, they can help you find a lender who has loans that most closely match your goals and financial situation. To do this, the agent should ask you a variety of questions before making any recommendation of a lender. If an agent simply tells you to get pre-approved or tells you to call a specific lender without first finding out about you, your goals and financial situation, this is a red flag. It could mean that agent doesn't care enough to help you find the best fit for you. A real estate agent can and should help you do more than find the house; finding the house is fairly easy compared with everything else necessary in buying a home for you and your family. Remember that the choice of Lender is yours, not your Buyer Agent's. They should give you several options and tell you that you are also free to talk with other loan officers as well.
Avoid Major Purchases that You Would Need to Finance


If you are only a few years or even less away from buying a home, don't make any other big ticket purchases. Car, boat or other finance payments and any other major expenses will damage your debt to income ratio (DTI), and could make it appear that you already have too many bills and debt for you to handle comfortably.

Having 3 Different Types of Credit – Trade Accounts




Bankers and mortgage lenders will be impressed to see your ability to handle multiple accounts and payments. However, you don't want to add these accounts or increase their balances within a year or two of applying for your loan. A good example of a variety of different credit lines — loans — would be handling and paying on time credit card(s), a student loan, and a car loan or some other combination of 3 different types of consumer debt. Be cautious to keep your indebtedness to 30% or less than your available credit line on your charge accounts; this will help you to maintain or improve your credit score. (For more tips on improving your credit score feel free to contact me directly by phone or Email.)





WE HAVE THE ONLY DOLLAR FOR DOLLAR




HOME BUYER SAVINGS GUARANTEE




WE'VE SEEN

ANYWHERE!
Save for Your Down Payment


Set aside money as much as you can toward your down payment and closing costs. Don't make the common mistake of assuming you need a 20% down payment though. This simply is not true at all. There are many loans and mortgage options available that require only 1% – 3% down, and there are even

No-Down Payment options

as well. Often times saving for a magic 10% to 20% down payment is neither practical nor financially beneficial. Currently, home prices and mortgage rates are on the rise in the Northern Virginia region and across the United States. Current projections show that the same house you buy today in Fairfax, Alexandria, Arlington and other areas of Northern Virginia will cost you 12% or more on your monthly mortgage between rising housing costs and mortgage rates in the next year! Even so, set aside as much as you can as often as you can. The more you save now, the easier it will be to get your mortgage and pay it off. READ:

12 Tips For Saving Money Faster

to

reach your home buying goal even sooner!

Understand Your Credit Timeline


You know not to make any major financed purchases a year or more before your planned home purchase. When you are 6 months from buying your home, stop checking your credit score. By that time you should already know what it looks like, and having too many checks (particularly hard checks) will be a red flag to lenders. Once you have a pre-approval from a lender, stop using credit altogether. Swap the credit card for cash or debit card purchases so that there won't be anything to prevent you from reaching the finish line.
This information about "Giving Your Credit Score A Boost" is brought to you courtesy of Dave Martin Realty Group, your Northern Virginia residential real estate experts. If you're considering selling or buying a house in the Northern Virginia metro area, we'd love an opportunity to earn your business, provide you an outstanding experience, and demonstrate to you that:
"Help From The Best Agent Makes All The Difference."
SEARCH HOMES IN ALEXANDRIA, VA
SEARCH HOMES IN ARLINGTON, VA
SEARCH HOMES IN FAIRFAX, VA
SEARCH HOMES IN PRINCE WILLIAM, VA
PLEASE CONSIDER FOLLOWING US ON SOCIAL MEDIA