Inventory of homes for sale in Northern Virginia is low.
Because inventory of available homes in Northern VA is low for two of the three home price range categories both entry level and move up homes create a Seller's Market; however, the opposite situation is true for the high-end luxury homes in Northern Va. These luxury price ranged homes are currently experiencing a Buyers Market in Northern Virginia because there are more of these homes currently available than there are Buyer's looking for them in most areas of Northern Virginia.
Start the home buying process early.
In Northern Va. prospective home buyers and their real estate agent should start the buying process 4-6 months before they want to move into their new home, or sooner. If we are in a Seller's market, as we currently are in Alexandria, Arlington, Fairfax and Falls Church as well as surrounding areas of Northern Virginia, you will want the longer period of time because both the number of available homes as well as the quality of some of the homes for sale is less than optimal for a buyer through much of Northern VA and surrounding areas. You may need additional time to find a property that suits your needs.
Its better to start your home buying process a few months early rather than to be in a position of starting late and having the potential to be boxed in to buying a home that you don't truly want, due to your lack of available time.
"He who hesitates is lost."
When you discover a home that you love, don't wait! You need to act — and act decisively — particularly when its a Seller's Market as it is currently in both the entry level and move up homes price levels in Northern Virginia.
Starter Checklist for Home Buyers
Follow this starter list of steps to make the initial steps of your home buying process faster and easier and to increase your chances of having your offer accepted.
Start by making a list of some of the things you need to have in the house you would like to buy, include the following.

Select the area(s) you are interested in. These might be by City, County or various Zip Codes in Northern VA.
How many bedrooms and bathrooms you need in your new home?
What type of property — Detached Home, Town House, Apartment style Condominium.
Compile your financial numbers to share with your real estate agent and lenders. You don't need documentation at this point; just know your Annual Income, Current Monthly Consumer Debt and your Assets.

Next select a Realtor with expertise in Northern VA as well as working as a Buyer's Agent. While its true that you should get pre-approved before going out to look at homes, your first stop should be to consult with a real estate agent / Realtor consultant — not a lender. Why? An experienced real estate agent will be able to give you as to what type(s) of loans are most beneficial for your unique situation. There are many, many types of mortgages available to home buyers in the Northern Va market but not all lenders carry all mortgages. By connecting with a Realtor first and having them represent you as a Buyer's Agent they will be able to suggest options of different loans carried by different lenders, saving you both time and the possibility of selecting a less than ideal mortgage for your needs.

Warning — If the real estate agent you talk with simply tells you to get a pre-approval — without first consulting with you in order to advise you as to what loan options might fit you best and why, or if they only suggest a single lender without telling you that they can recommend others if you like or that you can also talk with other lenders for comparison — my advise would be to leave and find another Realtor to be your buyers agent — one that will take the time and has the expertise with the Northern Virginia real estate market to be your advocate.
Questions? Feel free to contact us directly. Follow us on Facebook @DaveMartinRealtyGroup
You can start your Northern Va home buying journey with our free e-Home Buyers Guide: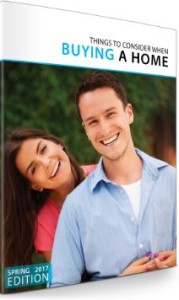 Alexandria Virginia, Arlington Va, Fairfax VA as well as surrounding areas of Northern Virginia are all areas the real estate agents of Dave Martin Realty Group service so Come Home To Virginia whether buying a home, selling a home or looking to invest in real estate let us as your Realtor help guide you to a great real estate experience.