INTEREST RATES ARE STABILIZING
If you are a first time home buyer searching for a home to call your own or a current homeowner looking for your next castle, it will pay you to stay current with where interest rates for mortgages are and where they are going. Every 1% change in the 30 year fixed rate will change the monthly cost of a loan by over 10%.
Since the start of 2018, Freddie Mac's Primary Mortgage Market Survey indicates that rates have increased from just under 4% in the beginning of January to just under 4.5% at the start of April.
Initially, the rise in rates over such a very brief time could seem alarming, and normally it would be, but if we look at the graph below, we'll see that rates have begun to level off and perhaps even go down to the February mark.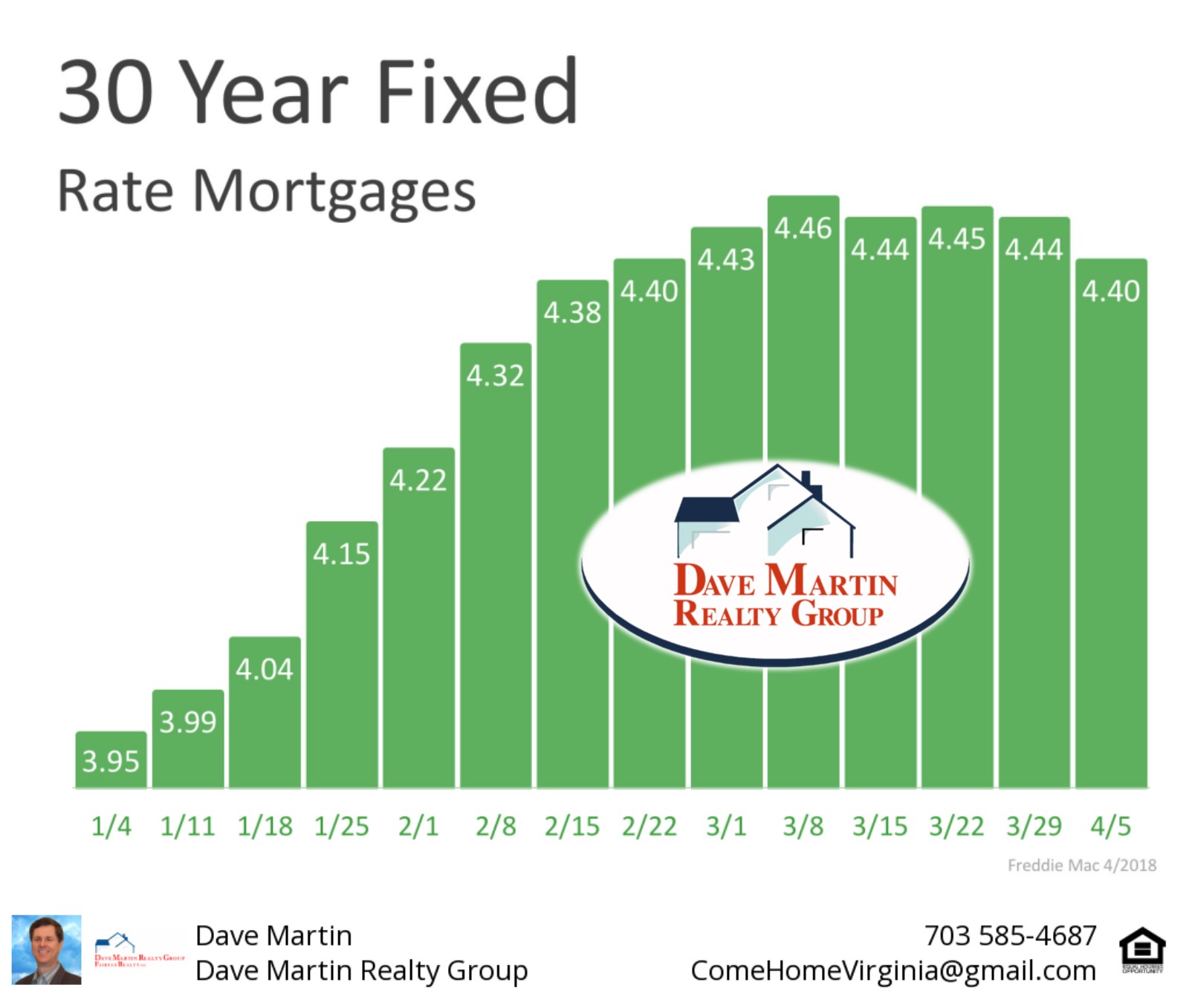 .
Wonderful news for you if you want to buy a home Now! Typically, spring is normally one of the busiest times of the year for home selling and buying. With mortgage rates increasing, it's even more so. Many fence sitting buyers have come off the rail to lock in the current rates that are historically still extremely LOW! This is still an excellent idea, as real estate experts believe that rates will continue to rise throughout the year.
Monthly, Freddie Mac, Fannie Mae, the Mortgage Bankers Association and the NAR (National Association of Realtors) release their forecasts of where they anticipate mortgage rates will be in the near future. If we take the average of what each of the four organizations is predicting for the second quarter, rates are expected to rise to about 4.48% by June.
That estimate climbs to 4.73% by the end of this year.

So, what does this mean?
Are you sitting around waiting for the end of the year to buy, with rates still expected to increase? Waiting will end up costing you more money on your monthly house payment — perhaps even so much that the home you want and deserve may be out of your reach! Remember how I mentioned at the beginning that a 1% change in the mortgage rate will change your monthly mortgage payment by more than 10%. Assuming the predictions for the end of the year mortgage rates are accurate, the typical monthly Principal and Interest payment could by higher by $80 per month, almost $1000 annually.
And that's just the impact of your interest rate going up! Home prices are also anticipated to rise during the year. Combining the two, the monthly increase could easily be doubled. Waiting until the end of the year could mean a monthly payment of an additional $160 per month for the same house.
Bottom Line
If you are ready and willing to purchase a home, find out if you're able to. Let's get together to evaluate your needs and help you with next steps! Get in touch and schedule a free no obligation consult. Even in this market our recent buyer clients have recently saved over 7% on the purchase price.