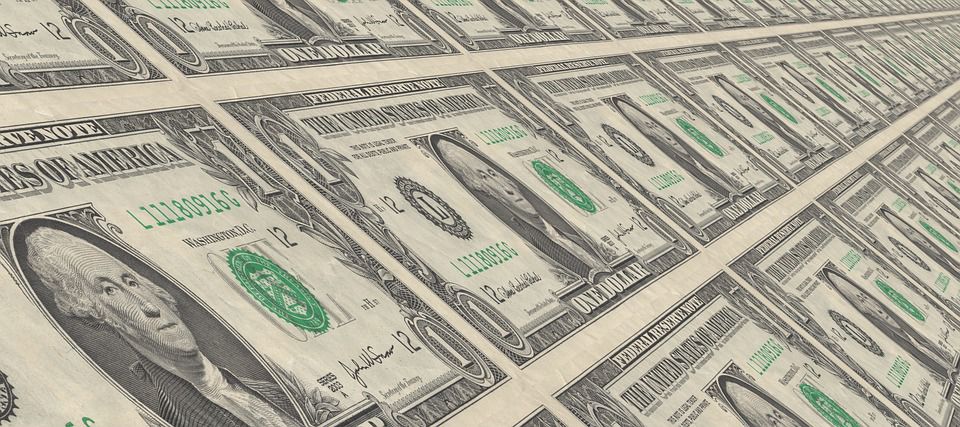 NATIONAL DOLLAR DAY 2018
It's National Dollar Day 2018 — plus additional money savings tips for home buyers. It's celebrated on August 8th each year and commemorates the day Congress established the U.S. monetary system in 1786. To celebrate, spend or save a dollar, whatever is your preference for observing. One of our favorite documentaries is shown below, on how to live on a dollar a day. Enjoy!
The first U.S. dollar bill wasn't printed until 1862, and it didn't bear the image of George Washington, either. Salmon P. Chase, President Lincoln's Secretary of Treasury, was featured on the first greenback.
U.S. $1 BILL TRIVIA
The average $1 bill circulates for 5.8 years.
The Latin above and below the bill's pyramid:
"Annuit Coeptis" means "He favors our undertaking," and "Novus ordo seclorum" means "New order of the ages."
George wasn't the only Washington on the $1 bill;
His wife Martha graced it beginning in 1886!
The pyramid has 13 steps, for the original colonies, and is unfinished.
HOW TO OBSERVE
Spend or save a dollar, depending on your preference. Use #NationalDollarDay to post on social media.
TIPS TO SAVE MONEY FASTER FOR A DOWN PAYMENT
12 TIPS TO SAVE MONEY FAST
Move bank accounts to take advantage of perks and earn more interest. Banks frequently offer bonus interest or higher than average interest rates for opening a new account. There are a number of online banks that are now offering nearly 2% interest with no minimums. True, it's not much, but far better than most brick and mortar banks offer.
Turn off the television. Doing so will result in lower electric bills, fewer ads to entice you to spend, and a lower cable bill if you downgrade your service
Use Coupons to make NEEDED purchases, but don't buy something just because it's on sale or has a coupon.
Sign up for every free customer rewards program you can. Bonus tip: create a special email address just for these rewards cards and only keep track of the special offers that you actually NEED.
Use Credit Cards that give rewards, preferably cash back bonuses. Don't ever use a CC with an annual fee, and avoid carrying any balance. Pay it off each month to avoid paying interest to them.
Delay Gratification. Instead of buying on impulse, before buying anything, take some time to consider if you really NEED it. Think about a purchase for at least 30 days. By that time the impulse excitement will pass for items you don't truly want.
Bargain shop — but ONLY for needed items. Don't buy something simply because it's on clearance or on sale. People's closets are often filled with things seldom if ever worn or used.
Use Grocery sale ads and coupons and make a shopping list for your groceries — don't deviate.
Bring your lunch at least a few days a week. On average most people spend $160 a month on lunches.
Skip the designer Starbucks, etc. style coffee; both 7- Eleven, Mcdonalds and others make a nice cup of coffee for about $1; or have your coffee in a commuter mug from home for even more savings.
Entertain at home. Instead of going out with friends, have friends come over for a Game Night or Pot Luck Dinner, perhaps taking turns hosting, or come up with other at home ideas
Make double batches of meals. There are a wide variety of meals that freeze well. When you are making this type of meal, make two or more and freeze the extras. Use these on the nights when you don't have time or just don't feel like cooking. Having these pre-made meals on hand means you won't be tempted to order out or go through a drive-thru.
Bonus Savings Tip: Last, but certainly NOT LEASE :), click the button below to read how you can save $5000 on your home purchase.

"National Dollar Day and Tips For Saving Fast For A New House" is brought to you courtesy of Dave Martin Realty Group, your Northern Virginia residential real estate experts.
If you're considering selling or buying a house in the Northern Virginia metro area, we'd love an opportunity to earn your business, provide you an outstanding experience, and demonstrate to you that:
"Help From The Best Agent Makes All The Difference."
Additional Real Estate Posts
What's The Best Month To Sell A House
Fake News — Home Buying Truths
Home Buying — Preparation for Success
Home Buyers - Costly Mistakes To Avoid In A Seller's Market
Move Up To A Luxury Home? — Now Is A Great Time!
Sellers These Are The Features Home Buyers Want Most
SEARCH HOMES IN ALEXANDRIA, VA
SEARCH HOMES IN ARLINGTON, VA
SEARCH HOMES IN FAIRFAX, VA
SEARCH HOMES IN PRINCE WILLIAM, VA
PLEASE CONSIDER FOLLOWING US ON SOCIAL MEDIA