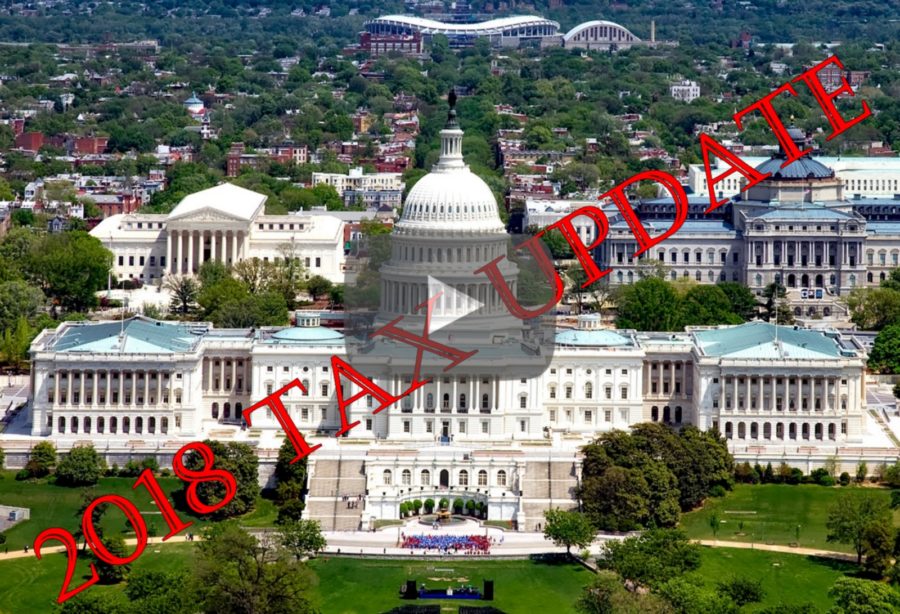 Highlights of the Recent Tax Reform
and How it could Affect you and your Real Estate Transactions
in Northern Virginia
On Wednesday 12/20/17, the House of Representatives gave the final approval for a huge tax reform by President Trump. Among many other changes, it gives most Americans a tax cut beginning in 2018 ( approximately 80% of the US population) and doubles the deductible many can make on their federal tax returns. This sounds like a win for everyone, but many are calling it a scam, benefitting only the wealthy, as some new perks will only be temporary, with changes to be made at specified points in the future.
What does the tax reform mean for the Real Estate market — particularly in Northern Virginia? There are three main portions which could affect residential Real Estate:
Putting a cap on State and Local Income Tax Deductions ( SALT) — Including Property Tax

Limitations on Mortgage Interest Deduction

Changes to the Capital Gains Exclusion Rules for Selling a Home
Here 's what Real Estate experts believe may be true about the changes:
Putting a cap on State and Local Income Tax Deductions ( SALT) — Including Property Tax
While the original proposal was to eliminate state and local tax deductions, including property tax, the new code allows an itemized deduction of up to $10,000 for the total of state and local property taxes and income or sales taxes. Though this has caused some concern in the Real Estate world because higher taxed regions will be impacted more, supporters of the bill argue that since the standard federal deduction has been doubled, more people will choose it over itemizing and save themselves many tax dollars anyway. (Estimates suggest that 95% of taxpayers will claim the standard deduction rather than itemize.)
Calculated Risk's Bill McBride stated:
"SALT will have an impact on housing in some areas. Some people might choose to live in one state over another (if they have a choice), based on taxation. This could impact demand in certain states – especially for the middle and upper-middle class homeowners."
Mark Zandi of Moody's Analytics said:
"The impact on house prices is much greater for higher-priced homes, especially in parts of the country where incomes are higher and there are thus a disproportionate number of itemizers, and where homeowners have big mortgages and property tax bills."
Limitations on Mortgage Interest Deduction ( MID )
Originally the tax reform was to reduce the limit on the mortgage interest deduction (MID) amount from $1,000,000 to $500,000; however, the new tax code reduces the limit on deductible mortgage debt to $750,000 for new loans taken out after 12/14/17, while current loans up to $1 million are grandfathered in.
If we assume a 20% downpayment, the reduction in the MID only affects people purchasing homes between 900,000 and 1,2000,000 since those homes sold for under the former are still eligible and those sold for above the latter were not eligible under the past tax code anyway.
Seasoned Real Estate Agents disagree about the possible impact on the Real Estate market.
Calculated Risk's Bill McBride:
"I think the impact of reducing the MID from a maximum of $1 million in mortgage debt to $750 thousand in mortgage debt will have very little impact on the housing market."
While Capital Economics claims:
"The impact on expensive homes could be detrimental, with a limit on the mortgage interest deduction raising taxes for those that itemize."
While some studies have shown that the MID might not be a good tax policy, it has historically been good for the real estate market because the opportunity for home ownership has always been coupled with it. The National Association of Realtors (NAR) fears that housing prices could fall by at least ten percent in every state. Others say only taxpayers in high-tax states could be negatively impaired. Unfortunately, Virginia is on the list of states which could experience a significant dip.
Changes to the Capital Gains Exclusion Rules for Selling a Home
The proposed change in the tax law was to covert the rule that owners who have lived in their house for at least 2 years out of the last 5 pay nothing in capital gain taxes when they sell the house, to a new law of "five of eight" — also limiting the use of the exclusion to one sale every 5 years instead of one sale every 2. There was, however, no change made to this tax law, and thus there will be no impact on the Real Estate market in Virginia or otherwise.
Bottom Line | What Does This Mean To You? | Heart Of The Matter
The total effect of the recent tax reform on the entire US will be minimal.
As Capital Economics reports:
"Given most households will see an overall tax cut, and potential buyers are likely to put that saving towards their home, we doubt it will have a significant detrimental impact on the housing market."
It remains true that some higher priced and higher taxed regions will be affected more than others; however, there are other parts of the tax code that give an advantage to Buyers and Sellers of Luxury Homes, so it should all balance out.
McBride explains:
"The corporate tax cuts (and other tax cuts) will mostly benefit the wealthy, and this will be a positive for high end real estate."
Individuals need to see their own financial planners or accountants in order to discern what parts of the new tax code could affect them, but many people just consider Home Ownership as part of their lifetime Bucket List or the next step in their Life Goals, so tax advantages are not a significant factor in their decisions about Buying and Selling anyway. This will always hold true.

Disclaimer: This page is not meant to replace tax advice from a professional tax adviser but instead as a source for basic information concerning the aspects of the new tax law and how it may impact home owners, sellers and buyers through the Virginia metro areas including but not limited to Alexandria, Arlington, Fairfax, Falls Church and Prince William. Our views herein provide broad guidance to the industry. Therefore, you should get tax advice from your accountant or other tax professional. This page may be revised as the analysis of the bill or changes to it evolve. As additional clarification of the new code and additional analysis becomes available, we will update this page.