Careful…Are you Caught in the — Rental Trap?!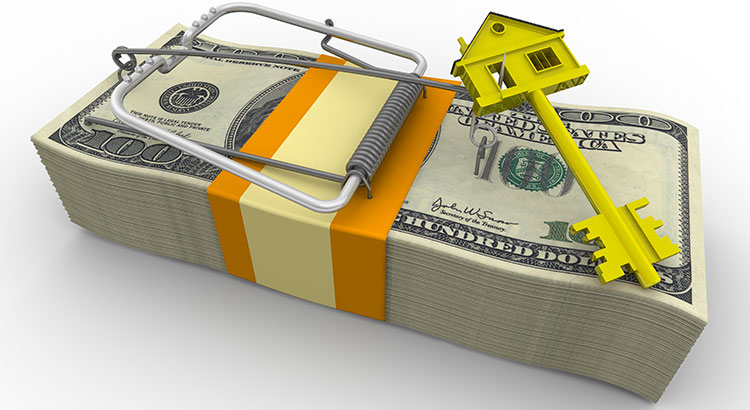 If you live in or are planning to move to the Northern VA area you may already know that there are many benefits to homeownership. One of the fantastic benefits is being able to protect yourself from rapidly rising rents by securing your housing cost during the life of your mortgage with a fixed rate mortgage, just imagine — no rent increases.
Don't Become Trapped
Jonathan Smoke, Chief Economist at realtor.com, reported on what he calls a "Rental Affordability Crisis." He warns that,
"Low rental vacancies and a lack of new rental construction are pushing up rents, and we expect that they'll outpace home price appreciation in the year ahead."
In the Joint Center for Housing Studies at Harvard University's 2016 State of the Nation's Housing Report, they revealed that "The number of cost-burdened households rose to 21.3 million. Even more troubling, the number with severe burdens (paying more than 50% of income for housing) jumped to a record 11.4 million." These households struggle to save for a rainy day and pay other bills, such as food and healthcare.
It's Cheaper to Buy Than Rent
In Smoke's article, he went on to say,
"Housing is central to the health and well-being of our country and our local communities. In addition, this (rental affordability) crisis threatens the future value of owned housing, as the burdensome level of rents will trap more aspiring owners into a vicious financial cycle in which they cannot save and build a solid credit record to eventually buy a home."

"While more than 85% of markets have burdensome rents today, it's perplexing that in more than 75% of the counties across the country, it is actually cheaper to buy than rent a home. So why aren't those unhappy renters choosing to buy?"
This is very true right now; in the Northern VA and surrounding areas the cost of renting a similar property now exceeds the cost of owning – even before the added tax breaks of home ownership are deducted.
Know Your Options
Perhaps you have already saved enough to buy your first home. HousingWire reported that analysts at Nomura believe:
"It's not that Millennials and other potential homebuyers aren't qualified in terms of their credit scores or in how much they have saved for their down payment.

It's that they think they're not qualified or they think that they don't have a big enough down payment." (emphasis added)
A recent Fannie Mae survey indicates that the majority – 78% of consumers believe that a higher down payment is required than is actually needed. They mistakenly believe that a down payment of 10%-20% is the minimum amount required. In fact in Northern VA a mortgage down payment of 0%, 1%, 3% and 5% options all exist depending on individual circumstances.
Many first-time homebuyers who believe that they need a large down payment may be holding themselves back from their dream home. As we have reported before, in many areas of the country, a first-time home buyer can save for a 3% down payment in less than two years. You may have already saved enough!
In fact, for home buyers in Northern VA you don't even need 3% for a down payment when you buy a house. There are options of both ZERO Down Payment as well as 1% Down when you are buying a home.
When you are ready to find out what you need to do to buy a home the first stop should be an experienced local real estate agent, not a mortgage lender. Here's why: real estate agents often work with a wide variety of lenders because different lenders will frequently have access to different loans. By selecting the real estate agent you want to work with first, the real estate agent will be able to help you select the lender that has the best loan options available for you rather than just the best option at a particular lender.
Bottom Line
Don't let yourself be caught in the trap so many renters particularly in Northern Virginia are currently in. If you are ready and willing to buy a home, find out if you are able. You will most likely be pleasantly surprised and will either learn you can buy now if you want to or that you are much closer than you thought you were. Let's get together to determine if you can qualify for a mortgage now! Have questions? Need some help? Ready to get started? Call or contact me today for a free no obligation evaluation of your personal situation.
Download our latest free home buyer guide