Rising Prices Will Help Build Your Family's Wealth... But By How Much?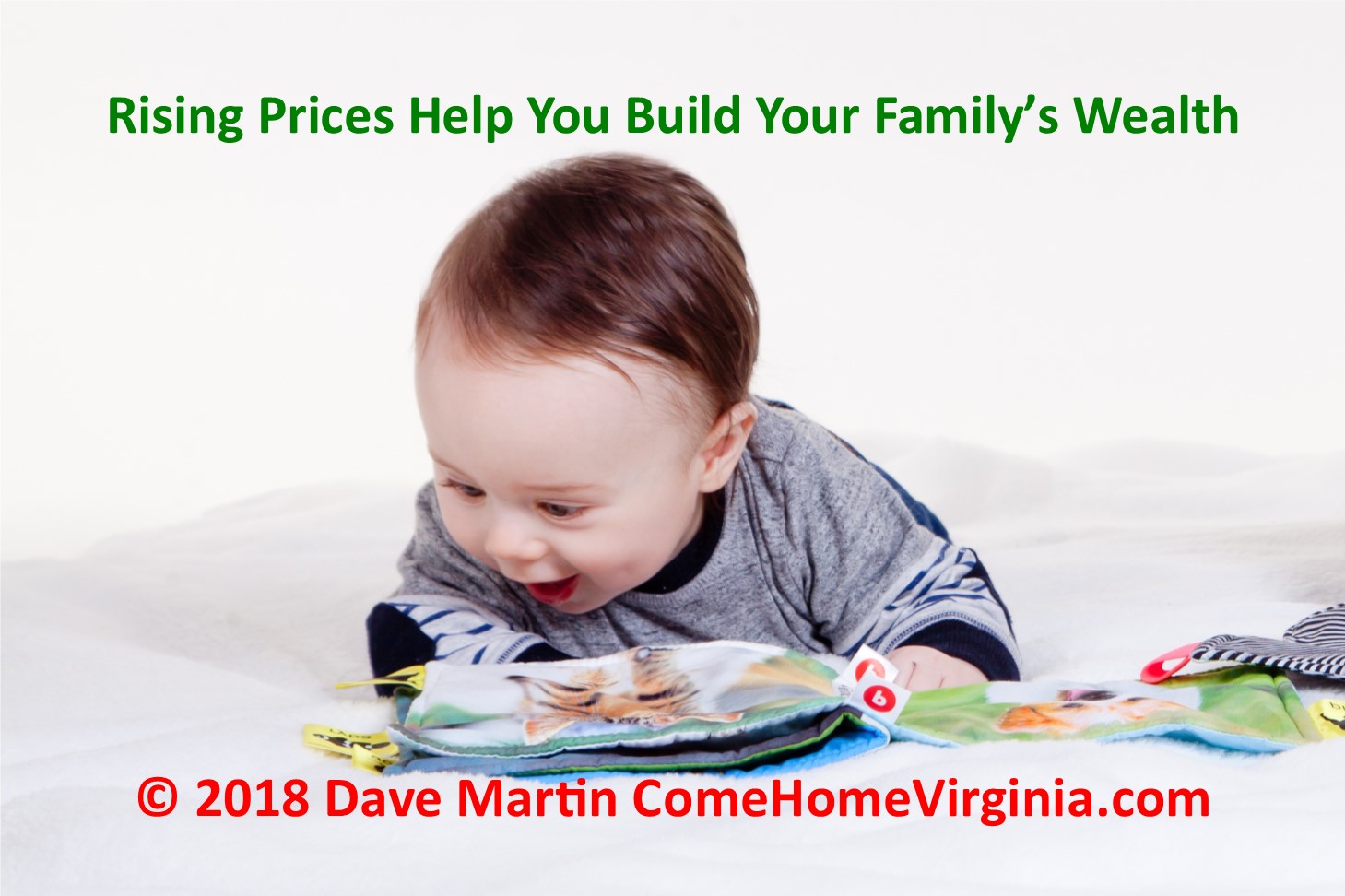 As the saying goes, "unless you've been living under a rock," you are probably aware that real estate is presently in a seller's market. Based on the current level of inventory (Homes for Sale) and the current absorption rate definition, presently the current inventory indicates that most neighborhoods in the Northern Va metro area have approximately 2 months' supply of homes for sale. This applies to homes in both the starter price levels and mid-range or move-up priced homes. Higher priced or luxury level homes in our area of Virginia are experiencing more of a buyer's market condition with respect to available inventory, which affords those that are considering a move up to higher end or luxury style home to be in a best of both worlds situation — being able to buy their new home in a buyer's market and at the same time sell their current house in a seller's market. Read: "Moving up to a luxury home.. now's the time."
Your home should first and foremost be a place you love — a place where you, your family and friends feel comfortable and a place in which you can make wonderful memories. It is also the source by which most individuals, couples and families grow their wealth. Even with moderate price appreciation rates for homes, in just a few years time the increased values are impressive.
It is currently estimated that over the next five years, home prices will rise, on average, by more than three and a half percent per year. That's about 18.2% cumulatively, according to Pulsenomics' most recent Home Price Expectation Survey. other info here References here
So, what does this mean for N. Virginia homeowners and the equity in their homes?
Let's take a look at one possibility for a median priced home in our area. Assume a young couple bought and settled on a $400,000 home this year in January. If we only look at the forecast increase in the price of that house, how much will their home equity increase in 5 years?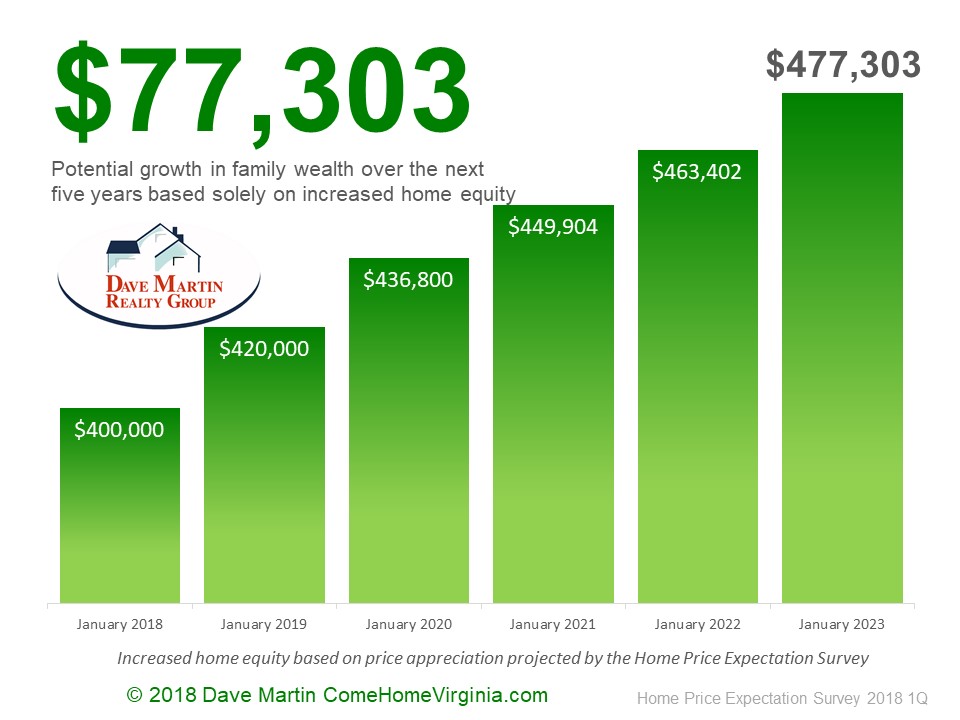 Many experts predict that home prices will increase by 5.0% in 2018, (this will vary with region of the country as well as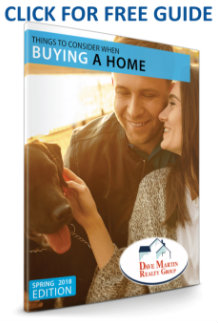 your particular Northern Va neighborhood); in the example above, the new homeowners will have gained $20,000 in equity in just one year.
Over a five-year period, their anticipated equity will increase by over $77,000! This figure does not even take into account their monthly principal mortgage payments. In this example with a $320,000, 30 year fixed rate mortgage this family will also have over $28,000 equity built up from paying down the principal of the mortgage. It's important to remember that in most cases, home equity is the largest portion of a family's overall net worth.
SEARCH HOMES AVAILABLE FOR SALE NOW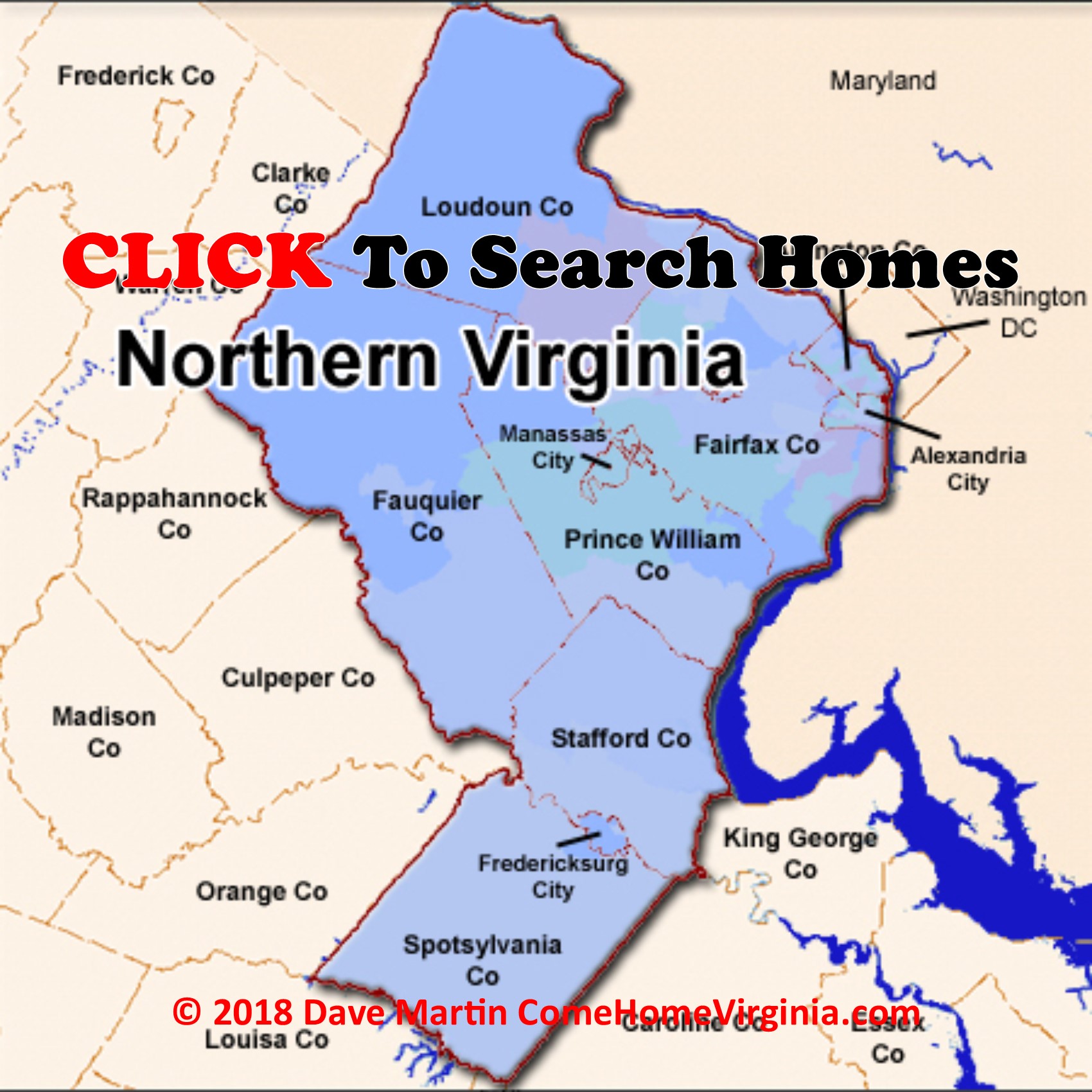 Bottom Line
Not only is home ownership something most people take great pride in achieving, but it also gives you and your family the opportunity to build equity you can borrow against in the future. If you are ready and willing to buy, find out if you are able to today! Give us a call (703) 585-4687 or Contact Us
Other Articles For Reference
Preparing For Success
Buyer Mistakes in a Sellers Market to Avoid
Seller DIY Check List For Home Sellers
The information contained, and the opinions expressed, in this article are not intended to be construed as investment advice. Dave Martin does not guarantee or warrant the accuracy or completeness of the information or opinions contained herein. Nothing herein should be construed as investment advice. You should always conduct your own research and due diligence and obtain professional advice before making any investment or purchasing decisions. Dave Martin will not be liable for any loss or damage caused by your reliance on the information or opinions contained herein. alexandria va home buyer, fairfax homes, kingstowne homes, parkfairfax alexandria va 22302 homes for sale